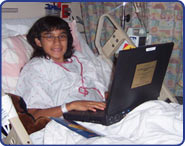 We encourage both parents and their children to visit and use our website.
For parents, we provide links to hospitals with which we are currently affiliated. Please use these links to access your child's hospital's resources.
For kids, we provide links to sites that will help to educate, communicate and pass the time. Please use these sites to find and play games, send e-cards and search sites similar to ours.
If you find another site that you think others would find fun or useful, please go to our contact page and let us know!