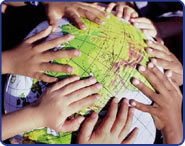 We want to hear from you! Maybe you or your child have used one of our installations and have a story to share. Maybe you have a suggestion for another children's hospital that could benefit from being part of our network. Maybe you have funding ideas or would like to help organize BOWI events.
If you have any ideas, suggestions or need to contact us for any reason, please give us a click below. We welcome any thoughts you may have regarding funding, our website or other BOWI activities.
Our goal is to provide you with prompt, courteous service.
Bringing the Outside World Inside Foundation
755 Bryn Mawr Ave.
Bryn Mawr, PA 19010
Phone: (609) 818-1044
Email: lrosenbluth@rvacations.com

Gail Ruderman
Email: ghrhope@aol.com