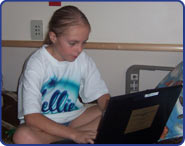 Our Story
The Bringing the Outside World Inside Foundation (BOWI) was created in 1996. Lee and Nancy Rosenbluth first conceived of the idea of equipping children's hospitals with computers to enhance a child's recovery period through their experiences with their own children.
As they worked to introduce them to electronic communications, they realized the potential of this rapidly developing technology when applied to sick and injured children confined to hospitals.
Through computers, software applications, and Internet connectivity, a connection between these children and the outside world could be established and used to improve a difficult hospital stay and promote recuperation.
Having been blessed as a family, they were seeking some way to return their good fortune to others. "We wanted to enable children who could truly benefit from this technology to communicate with their parents, friends and teachers during the recovery process so that they would not feel isolated and ostracized from their friends and family," explained Lee.
How it Happened
Using his background in technology and e-commerce, Lee approached a team of doctors and administrators at Children's Hospital of Philadelphia (CHOP) with the idea of providing computers, software and printers for the children to use while recuperating from serious operations and illnesses. CHOP was excited by the idea and the BOWI Foundation had its first installation.
The overwhelming success in Philadelphia spurred the Rosenbluths to follow up with a visit to the Alfred I duPont Hospital in Willmington, Delaware where a second installation was quickly implemented. A third installation in the Hospital for Sick Children in Toronto, Canada wasn't far behind.
Word of the BOWI Foundation quickly spread after the Rosenbluths privately funded the first three hospitals in Philadelphia, Wilmington, and Toronto. Subsequent corporate support further bolstered the efforts of the growing foundation.
In 1999, Lee approached a long-time travel industry colleague for involvement in the growing BOWI success. Gail Ruderman was winding down her career, having owned her own company for 25 years. The opportunity was a good fit since Gail came from a medical family and had a great love of working with children. On January 10, 2001, Gail became the Executive Director of BOWI Foundation and has worked full time since to achieve the goals of the organization.
Today, our foundation strives to create a blend of U.S. based children's hospitals and select international children's hospitals. At this time, three to four hospitals per year are selected for new installations.
Thanks to our corporate supporters and the support of people like you, the BOWI Foundation is helping to create a world where illness and injury won't stand in the way of a child's opportunity to learn, play and connect to the outside world.
Top